Community Supported Agriculture (CSA) is a way of connecting people who grow food with people who eat food.   At CSA farms, customers pay for a portion of the farmer's harvest up front, and receive a weekly box of veggies throughout the growing season.  
This system gives farmers access to capital early in the season when they need it most.  Eaters get fresh and healthy produce, a personal connection with the people who grow their food, and a way to support the local economy.
Farms below are located or accessible in East Jefferson County.  For Clallam and Kitsap farms, please visit WSU Regional Small Farms list of Clallam and Ktisap farms.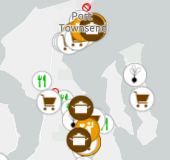 Jefferson County Map of Food Sources
(To use: type in an address or drop a pin, and a list of food sources including Farmstands and Farmer's Markets will appear)